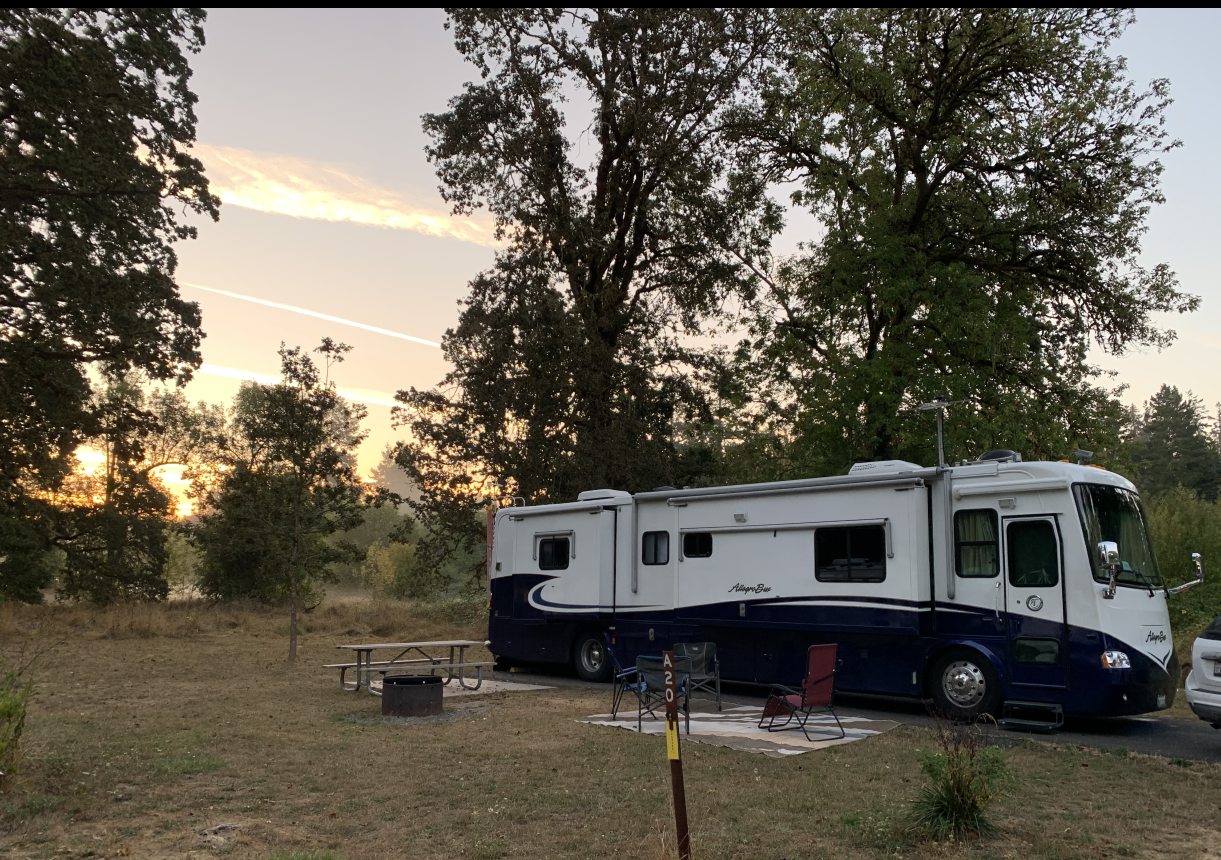 We drove about an hour southeast to Champoeg State Historic Site.   On the way, just outside the entrance to the campground, I heard a very funny dragging noise after making a left onto the road leading to the park.   I stopped and walked around back and there was a 8′ piece of angle iron hanging from the rock guard by one bolt on the driver's side.   Since I was literally in the middle of a small road, I found a couple tie wraps to temporarily hook it up so it wasn't dragging till I could bolt it back on.
We got into the park a few minutes later and found our site.   The next day I decided to remove it to see what I could do to salvage it.  After checking out how a friend's rock guard was attached, I decided to forgo putting ours back on, opting to make a couple sacrificial steel pieces for the bottom ends and then buying a new piece of angle iron and configure it a bit different than the original.
We didn't do very much else while we were there as our friends were trying to recover from colds.  We decided to get our flu shots and found out that Costco did walk-in's, and then we could pick up a few things while there.   On the way I decided I would also get our Covid Booster BA5 version.  We weren't very sure it was a great idea to get both at the same time, but it turned out fine,  neither of us had adverse reactions to either shot.
One day there I saw something I hadn't seen before, a Tesla Model 3 towing a fairly large trailer.  I stopped to talk to the guy for a bit as I didn't think a Model 3 could pull a trailer.   He said it was 4,000 pounds and that it cut his range from 225 miles to 70 miles.  Wow.   Hopefully there are Superchargers every 70 miles to keep them moving!
On the way out of there, we found a local Shell station with Diesel @$4.89, so we drove over there and slowly pulled in as the roof said it was 13'0″ and we are 12'7″.  It seemed very short but nothing hit.   And as in NJ, Oregon pumps your gas for you, which always seems odd.