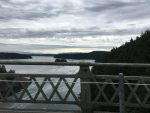 The first morning on Fidalgo Island we drove over to Whidbey Island to check out Deception Pass close to a tide change.   The water was moving swiftly under the old bridge.   In order to get to the northern walkway we had to go below the bridge and climb up the other side.  There is a lot of traffic right there and its a fairly narrow bridge by today's standards.  Built back in the 1930's and it looked a lot older than that underneath it.
After wandering around there for a while we drove all the way to the south end of Whidbey island to a very small town called Clinton, the road actually ended at the ferry landing with no place to turn around.  I had to make a quick u turn hoping there were no popo watching..
Kathy spotted a place called Island nosh which had a patio to get lunch where Dusty wouldn't need to stay in the car.   And this place had excellent food.   I had Pad Thai that was as good as any other Thai restaurant I'd ever had it.
We drove back north afterward and took some back roads with gorgeous homes on the Whidbey Island waterfront.   We headed over to Anacortes first to find out where the Ferry Landing was located and the parking situation for our trip to Friday Harbor the next day.
On the way back to the RV we drove into a dry campground next to the large marina in downtown Anacortes.   To my surprise it was a really nice place and within easy walking over to the old downtown and all the restaurant's and shopping.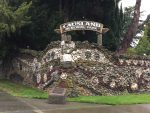 We also found a very interestingly landscaped park in Anacortes.  I will let the pictures do the talking.
While driving around Anacortes we also found another ferry, is was a small one similar to what we used to get from Dawson City over to the Top of the World highway back in June.  The ferry made the short trip from Anacortes to Guemes Island.   We probably should have traveled over to that island but by the time we found it we were in a rain storm and didn't want to venture out of the car.
The following Sunday we went to breakfast at the Calico Cupboard restaurant which was recommended by one of Kathy's friends that vacations in the Northwest often.   The place made the best Hash Breakfast I have ever tasted.  Its been added to my special restaurant list!    If you ever find yourself near Anacortes, they make incredible food.
And we found these unusual gutter downspouts when leaving the place that morning.   They were very functional, water was coming out from the watering can spigot as it was lightly raining that morning.