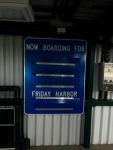 Late Friday morning we headed over to Friday Harbor.   It seemed appropriate to do that on a Friday!  It was to be one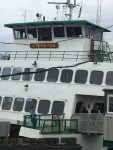 of the few days that it was supposed to be sunny most of the day.    We walked onto the ferry for the 90-minute ride over thru the San Juan Islands.  Along the way we went past Orcas Island and many others.  Most of them have houses we could see from the ferry.   Lopez Island had lots of houses that could be seen from the ferry.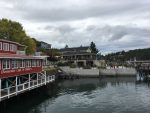 It was a quick 90 minutes and we seemed to get there really fast, probably because it was a "non- stop" ferry.   When we arrived, it was overcast and just  after lunchtime so we headed out looking for a place to get something on a patio where Dusty could stay with us.
Fairly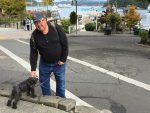 quickly we found a small Mexican restaurant just about 100 feet up the hill from the landing.  They had a small patio sans a cover, so we lucked out and it didn't rain on us even though it looked like it was going to do that any minute.   It was pretty good food, a lot better than expected being so far from the border.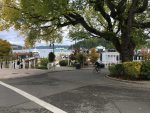 It's a nice little town and didn't really seem like the tourist trap I expected.  There were a few gift shops,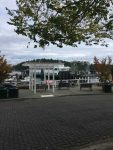 where I expected everything to be one of those. but it was very low key.  We were only staying for a few hours and wandered the streets for a bit while Kathy perused the shops there were there.  She did find a nice metal sign that may end up in the living room of the RV.
Dusty and I spent a lot of time on park benches while she shopped and he had a lot of folks coming over to pet him and hear how cute he is.   It wasn't long 'till we saw our ferry approaching the island and we headed over to get in line to board for the ride back to Fidalgo Island.
Along the way we did see a pod of Dall's Porpoise swimming beside us.  They look like baby orcas with their black and white colors.