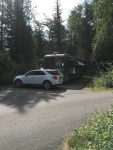 We had stayed in Anchorage for a couple nights to empty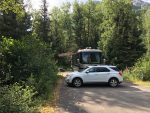 the tanks from the convergence and fill the fresh water as we were going to drycamp at Williwaw Campground at the Portage Glacier.   We left early as we didn't have reservations there and we knew it had a lot of first-come first-served sites.
The drive down was spectacular.  Kind of what I thought Alaska would look like prior to getting to the great white north.  The mountains with tops covered in clouds, the road carved between the mountain slope and the water of the Turnagain Arm of the Cook Inlet.    We were told it was called the Turnagain because Capt. Cook was looking for a shortcut from the Pacific to the Atlantic Ocean and the waterway was another bust and he had to turn again…
It was low tide as we drove and some of the areas have a long muck beach to the edge of the water.  Kathy heard that if you walked out in it, you would likely get yourself stuck and it was deep and difficult to pull yourself out of.
We arrived at Williwaw before noon and there were a lot of open sites, many of which could fit the largest vehicles.  We chose a double spot that was probably 60′ deep and 25′ wide.  It cost us $28 for two nights!  50% off due to the National Park Senior Pass.  I think that thing has saved us about $500 dollars since we paid the $10 for it at Montezuma's Castle National Monument back in May 2017.   I just calculated that was a 4,900% return on that $10 investment.  Wow… I wish the stock market would give me a return like that.   I could retire!   LOL.
The campground was beautiful.  There was a waterfall coming down from what looked like a glacier right above us.  The sound from the falling water could be heard inside our coach.  It was a terrific background sound.   And the campground wasn't full on Thursday or Friday night.   Kind of amazing for the end of July.  There are no hookups here, just a hand water pump and large dumpsters.   There were also pit toilets.  I didn't bother to look in them.
This is an awesome campground to see the local area and I bet to fish as there is a lot of water all around.