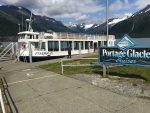 We drove over to check out the tour boat that takes you to the portage glacier.   Turns out there were tix available for the 3pm tour and we purchased them.   We headed back to Williwaw to leave Dusty in the RV while we went out on  it.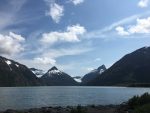 We got there and waited a bit till they allowed us on. It was a really beautiful day, so we took seats on the top deck.   So far the Kenai has been all sun for us!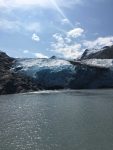 They get to within a couple hundred feet of the glacier wall and unfortunately we didn't get to see it calve off.   We did hear what sounded like a gunshot, which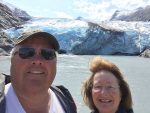 we were told was the ice moving, but never saw any movement.
The tour was a little over an hour and we were sure glad we had gone right away as that evening it started raining and it continued to rain the next two days we were there.
Off to Whittier in the morning.