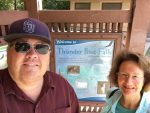 I was really surprised how much there was to see around Wasilla, a place I wasn't going to stay more than a day or two.  We spent 7 days and checked out lots of places in and surrounding it.   We also had some pretty good tacos at Taco Cancun.   So good in fact, we went back last night for a takeout dinner.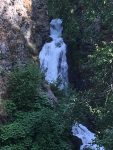 We hiked out to Thunder Falls on a beautiful afternoon the day before we were to head east to Isabella Pass for a long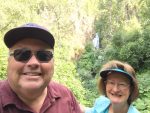 weekend of boondocking with the Escapers.   It's their Alaska Convergence and we are going to check it out.
The hike out to the falls was a little over a mile and mostly uphill on the way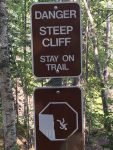 out.  We remembered our bear spray as this is truly out in the woods.   The hike was worth it as the falls were really nice.  There was a platform with benches to just relax on and take it all in.   We snapped a few pix and started to head back after about a half an hour.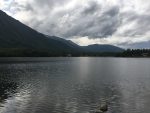 We drove over to mirror lake, but by then it was a bit cloudy, so we never saw what it was supposed to mirror.  There were mountains right there, so I suppose they were it.   There were a lot of BBQ grills and picnic tables surrounding the lake.
We then drove up to Eklutna Lake,  a very long narrow windy paved road.  When we got out to the park on the lake, we couldn't see it at all.  Neither of us felt like hiking around to find it, so we drove that windy road back to civilization then on toward the RV.
The next morning I had a mission to find a bakery, maybe pick up a Harley Denali Tee shirt, get the car washed and vacuumed, and last but not least, pick up groceries for the long weekend in the mountains.   I was disheartened as all the Harley shirts had pictures on the back.  I just wanted a plain HD shirt with the Denali location on it as I was at Denali Harley Davidson.   I asked the counter person, but she said they all had pictures on the backs' so I headed off to find the bakery and then the car wash.
Since we were going to be dry camping for a really long weekend, we stocked up at the Carr's grocery store in Wasilla that afternoon.  Then in the morning we would head out early to fill the tank at a Tesoro gas station that was the cheapest in the area, and happened to be on the way we were heading!