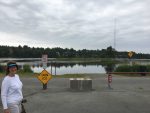 We headed out early for Anchorage on Saturday morning.  I programmed the Nav to find downtown.    We ended up going down a steep hill and found a park right on the inlet.   It was low tide so there was a lot of seabed showing, quite a bit of muck that looked like it might swallow you.   We couldn't find a way to get over the railroad tracks that kept us from the shore, so we drove off to find what looked like a way I found on Google Satellite.   It ended up being a locked gate, so that was a bust.
We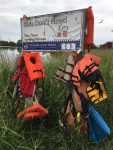 headed further south and found another much larger park with a big lake housing the loudest birds I can remember ever hearing.  We went for a walk to see where the path went.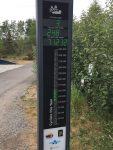 It was pretty cool.   We saw this station for life jackets you can borrow.  It said, "Kids don't float" on it.  What a great program!!
Along the path was some sort of bike counting contraption that told you how many bikes went by each month, and then a tunnel under the rail road tracks.  Hey, we finally found a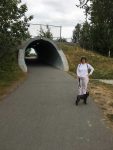 way past the tracks!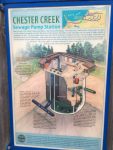 Out there was a great viewpoint and something unexpected:  a sewer pumping plant.  Outside the pump-house was a cool sign depicting how it worked, including a drawing.  Kind of fascinating as nowhere else had I ever seen a diagram of a municipal infrastructure building.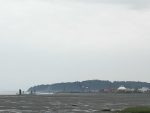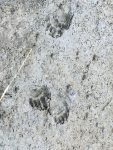 Prior to going thru the tunnel, there was a bridge over a creek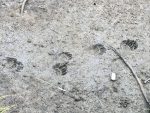 and probably due to the low tide a mud flat.   Kathy noticed very large bear footprints in the  mud.  Yikes!   As we were heading into the "city," we left our bear spray in the RV.   It's not to be left in a hot car and we figured it wouldn't be required in town…  Live and learn, folks!
After walking around there for quite a while, we were hungry and I brought out my BringFido app to look for a place to eat.   Tommy's Burgers was listed without any reviews on that app, so I opened Yelp, checked it out there.  It had good ratings so we drove there.  Not an easy place to get to; but after driving around the block once more, I saw where it was and then tried to figure out how the heck to get there.
It was about 12:15 when we parked and there wasn't a soul there.  We grabbed a table on the patio and went thru the menu.  I ended up with a Po Boy cheese burger that was really good.  I guess the lunch crowd in Anchorage starts around 12:30 on Saturdays.   It was pretty full when we left.
After finishing lunch, I called the Anchorage Trolley Tour number to see if we could bring Dusty with us.  The guy on the phone said only if he is better behaved than me.  We headed off to find the corner they leave from and look for somewhere to park.   We found the corner then started looking for a place to park.  Within a few minutes, I spotted someone pulling away from the curb and we pulled into that spot.  To our surprise, Saturdays the meters are not in use.  Scored a free parking spot a block away and walked over to the visitor center to find the ticket guy.
It was a one-hour tour of the city on one of those buses made up to look like a trolley.  They seem to have one of them in every large town we have visited the last three years of RV'ing.  There are lots of those trolley vehicles in San Diego, but I had never been on one of them.
The driver/tour guide was a funny young fellow who grew up in Alaska and lives in Anchorage, and he made the ride much more enjoyable than any other guided tour I have been on before.  (I haven't been on a lot of tours though)  It's an interesting city.   Some really nice housing areas and some really cruddy ones too.  The 9.0+ earthquake in '64 really changed the landscape too.
They also have a lot of moose to deal with in town.  Next to some of the larger streets that have the special stunted trees growing, they put up moose fence with moose gates that help keep the moose away from the highways.  Lots of moose get killed by cars and trucks in the city.   The big moose get to be 8′ tall at the shoulder and up to 1,800 lbs.   Can't imagine one of those coming in thru the windshield!!