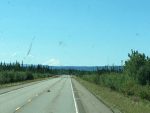 We arrived at our campground Friday afternoon.  It's about 8 miles north of the park entrance.   While we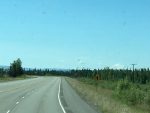 were driving down the Parks Highway from Fairbanks, we were able to see Denali from a really long way up the road.  As it turned out,  it was a much better view from 75 miles away than it was from 15 miles away on the bus ride.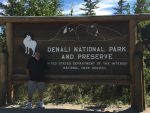 Since we had seen Denali sans any clouds on the way down, we drove over to the park as soon as we set up in the campground so we wouldn't miss it from a closer vantage point.  What we heard was only about 30% of folks that go there can actually see the mountain top because of cloudy weather.
We drove out as far as cars are allowed, about 15 miles into the park, where the asphalt turns to dirt.  We snapped a few pics on the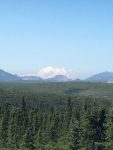 way, but lacking a telephoto lens for our phones, it's pretty small in the pictures.  You can only view it on that section of road from about mile 11 to 13.
We stopped by the visitor center and checked out the bus schedules, but found out they need to be purchased at the Bus Depot, about a mile prior to the visitor center, closer to the entrance.   We decided to come back early the next morning so the sun was in a better position for pictures from our vantage points.
That evening we sat outside in the beautiful weather and then our new neighbor pulled up to back her 27′ trailer into the space next to us.   Three people got out of the truck and they scattered in all directions around the truck and all three started telling the driver what to do.  All three were saying different things and it took the driver about 35 minutes to back that trailer in.   It was quite entertaining.
The clouds were completely gone in the morning, but there was a bit of haze along the bottom that was either water or smoke, but from this distance it was hard to determine which it was.
On the way back from taking pictures at the furthest point, we stopped at a spot we passed that morning and took some more.  There were a couple BMW adventure riders at that stop and I strolled over to say hi and ask about their trip.  They mentioned they came across the Denali Highway from Paxon, and proceeded to exclaim how bad that road was.   I asked them if they had come across the TOTW Highway and they had, but said the Denali was about 10x worse.   I had given thought to try that road as a shortcut to get to Isabel Pass next week till I heard it was 136 miles of dirt and gravel; and now, hearing their story, I was glad I decided to work on the logistics to take the long way there.
On the way back out of the park, we decided to drive up a mountain off the Parks Highway to the Grand Denali Lodge.  We could see it from a long way as it was perched on a mountaintop.   We drove up a narrow winding dirt road that had very unusual signage along the way.  Here are a few we passed.
The hotel wasn't anything special, but the signs on the way up and back down that steep mountainside were fun to see.
I had researched the weather for the next few days and decided that Monday was supposed to be best for getting a close view of Denali from the stops on the park service road so I bought a ticket for Monday at 9am for the 8-hour round trip bus to Eielson visitor center.   I was seriously considering the 12 to 13-hour one.

That evening we decided to go out for pizza.   According to reviews of the very few places in town, a place called Prospectors Pizzeria & Alehouse had the highest rating for what we were looking for.  We got over there for dinner a little after 7pm on that Saturday night, put in our name and received the little puck that would let us know when to come back.   They said it was a 30-minute wait.
I sat down with Dusty and Kathy wandered over to the gift shop.   An hour and a half later the puck did its thing and we got seated at a table that had been empty for at least 15 minutes.   The waitress came by and mentioned that they were backed up for pizza for an hour because of a large To Go order, and she suggested other things that wouldn't take so long.   We came for pizza, so what was another hour.
An hour and a half after that our pies were done.  Thankfully they were really good pizza.   Basically we got there at 7 and our pizza arrived at 10 pm.  Thankfully we ordered an antipasti appetizer to tide us over!   It was also good, and very different than any antipasti I had ever had prior.