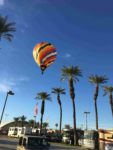 We signed up for the FMCA rally at the Riverside County Fairgrounds for early January 2019. We loaded the coach and set out for Indio, CA. After checking in, we were lead to a large lot of dried grass and parked next to many other coaches already there. Kind of surprising they parked motor homes on that grass as newer diesels have an exhaust system that can get extremely hot during regen process and catch that dried grass on fire. Luckily we didn't see any smoke. 🙂
After deploying the slides, I got out the carpet and started screwing it down where I found my first goats head sticker in my knee. Those things are nasty, very hard burr like things. Turns out they were everywhere.  Poor Dusty, he found lots of them over the course of our stay. The first morning after getting there I was scheduled to take a bus trip to the Patton Museum which is about an hour east of the Rally. I'll put that into another post.
After getting back from the excursion that afternoon, I poked my head into one of the new coaches lined up for sale near the drop-off spot. I walked thru a new Allegro Bus. It was really beautiful inside; and as I walked into the back bathroom and stepped into the shower to see how much room was in there, I realized I hadn't hit my head when stepping into the bathroom, which I did on all the prior coaches with rear bathrooms. The floor was level from front to back. How novel. But I was curious how they did that, so I asked the salesperson who was sitting up front. To my surprise, Tiffin had raised the height of the coach to around 13'4″ from 12'7″. And it also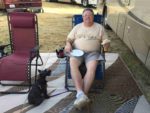 appeared to me they lowered the engine a bit. That change allowed them to make the floor level front to back and also added about 5″ to the height of the basement. Impressive. Except when I was thinking back to a couple encounters with very low branches on our travels back east the prior summer, driving this coach would have given me nightmares of poking holes in the roof or tearing off an air conditioner or two.
The next day the seminars started. They were very similar to what I experienced in Coos Bay last summer. Most of the seminars were just sales pitches for something the person was selling in a booth inside the vendor tents. I am seeing a pattern with FMCA rally's, which I will need to think about prior to setting up another one in the future.
There were two seminars that didn't follow that pattern. One was on our coach's 120v electrical systems and the other on Onan Generators. Both of them were excellent and I learned things I hadn't known previously in each. Well worth coming over to the desert. In one of the prior seminars I had learned that (according to the speaker) if you set your local TV Satellite channels to Los Angeles, they will follow you all over the country without paying extra for their Distant Network Services I tried that in Quartzsite and it worked, but that wasn't the best test of it as we were only about 250 miles east of downtown LA. The real test will be when we are in Tucson this March. It's closer to 500 miles from LA. If they work there, then the speaker was probably correct.
While at the rally we met up with Scott and Tami for a few of the seminars and went out for Mexican one evening to the El Mexicali Restaurant. The restaurant was next to the RR tracks, and when the trains went by, it felt like they were inside with you. The food was excellent (my opinion), the place was packed, and about 1/2 way thru dinner a musician with a harp, of all things, came in and played for the crowd. I think the last time I was around someone playing a harp was at the Cat in the Hat show at the Lowes Resort on the Silver Strand when Chris was very young. Personally, a harp is much nicer than the strolling Mariachi's at other Mexican places. Especially when they stand right next to you and play.
When the rally was over, we drove only about a mile to Indian Waters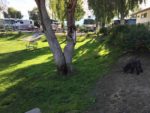 RV resort for a couple nights prior to driving the couple hours to Quartzsite on Tuesday. We were able to dump the tanks and fill up the fresh water tank before our next week of dry camping off Plumosa Road's BLM dispersed camp sites.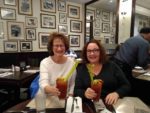 On a rainy Monday afternoon we got together with Kathy's cousin Kay and her family for a wonderful lunch in Palm Desert!