We left the Port Townsend area Sunday morning with a quick navigation around the the asphalt sealing team that was about to start the second half of the park road repairs.    We headed south toward Tacoma and Galloping Gertie.   Well, I guess it's really the replacement for Galloping Gertie.   I noticed the Tacoma Narrows Bridge on the map and that reminded me of a video we watched as a kid.   It was on one of the routes we could take east, and that settled the path to take for me.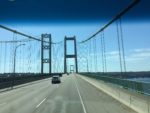 Today as we got close, I could see there are two spans now.  Each looks different.   I'm wondering if they reused the old towers for one of the spans?    Once over the bridge and onto I5 north, we hit a lot of traffic.  Sunday morning?   Geez.   Between Seattle and now Tacoma, I think they are attempting to wrest the "worst traffic" award away from LA.
We took a shortcut over to the I-90 that, based on all the red I-5 roadway on google maps, would save us a bunch of time sitting in bumper to bumper traffic.   We made it to Cle Elum fairly early in the afternoon and pulled into the park to check in.   We got a shady spot, which was good as the thermometer said it was 101 degrees there.   We parked in a pull-thru site, so there was no need to detach the car in this heat either which was very nice.    Luckily we were still up in the mountains not far from the Snoqualmie Pass, so not down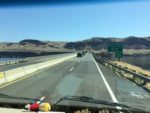 in the desert which is eastern Washington.     We were off early the next morning before 10 and crossed the Columbia River again about an hour later down in what looked like desert all around.   After a bit we started heading north off I-90 toward Soap Lake.
That is one large lake out there.  Not sure how it doesn't just evaporate away with all the heat we were experiencing.    After finally passing Soap Lake —  which took a long time — then there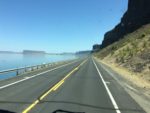 was another long, large lake and another after that.  We were to stay on Banks Lake, which looked to be another in that long line of large lakes in the middle of nowhere.
We filled up along that way at Shree's Truck stop in George, Washington,  Nice Name!    Diesel fuel was a reasonable $3.32.  It looks like it may go down when we hit Montana.   The odd part about Shree's was the cash price was only 1 cent less than the credit price.    Most places that have both prices have been 10  cents difference.   So the 1 cent doesn't really make sense when my Costco Visa gives me a 4% rebate on fuel.