We are staying in a small town called Torrey, UT.   There was even a Torrey Pines Inn just a stone's throw away.  (not the one in La Jolla)
Really, Really Windy here!   We headed out toward the Reef on Saturday morning, hit the visitor center for a map and suggestion on where we could take the pups.   There are a  few dirt trails to drive the car a few miles into the canyons. If you go, drive down them.  It's an awesome drive between the towering cliffs.   But don't if it looks like any rain may come.  Those places would be a wall O water as they get very narrow near the bottoms.  And one is called the Grand Wash…  nuff said.
We started out with the trails near the river while it was still cool, and it turned out to have lots of shade trees.   There was a lot of a plant that looked like poison oak to me, so we kept the pups and ourselves clear of that.   Beautiful walk with orchards on one side and a small river on the other.  Dusty even got to see some horses up close on the neighboring property!   Visited the Gifford house on the walk back and they were selling little pies and ice cream and gifts.  It was too early in the morning for those, but it was a cool place to visit.   Lots of trees and picnic tables in the shade.
Our first stop was the Capitol Gorge at the end of the Scenic Drive.   We drove down that dirt road in Kathy's SUV.  She was worried, but there were sedans doing it.    Basically it's well maintained but pretty bumpy,  no washboard thankfully.   It's very worth the harsh ride as the view is incredible.  I think it was just a couple of miles to the bottom.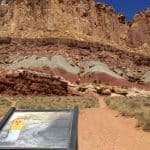 On the way back I turned off on the Grand Wash dirt road.  There was a radioactive sign at the beginning. Thank god we are not planning on more kids!
It was a much shorter road but more rough than the Grand Gorge road.   More cool scenery.  I attempted to record great videos out the sunroof on both drives, but for some reason they are sideways and I am not able to correct that,  and they are too difficult to watch that way.   On the way back to Scenic Drive I was told emphatically "No more dirt roads".
We headed out of the park after getting back to pavement, then headed east on the highway toward the petroglyph stop.  They were very cool once someone pointed out where they were.   The sign made them look 20′ tall,  they were closer to 20″ tall.   Very cool, but not as impressive as I thought they would be.