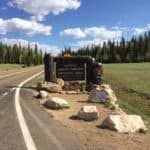 It's truly a long drive from the South Rim to the North Rim, roughly about 5 hours.   We traveled to Kanab Utah as a base camp for Zion and the North Rim,  then drove down to the North Rim from there.  It was about a 2-hour easy drive.   On the way down we saw a large fire in our path.   Turns out it was a prescribed fire and it was just to leeward of the road we were on.   I had Kathy film it on the way back so you could see it was a big area and right up to the road.  After we moved past the fire we noticed lots of what appeared to be hundreds of haystacks of pine branches and leaves.  It looked like someone had trimmed off the bottom 10-20 feet of branches on every pine tree.  I guess that is why that fire did not look like it burned any trees.  Which seemed amazing to me as pine trees go up like roman candles in the forests of San Diego.
Not far after the miles of hay stacks we came to a burned out section of forest.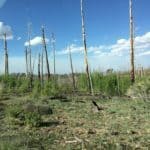 We were truly out in the sticks.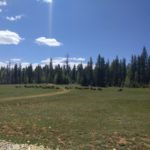 On the way probably a few miles before the park entrance, we spotted maybe 50 buffalo by the side of the road.   No fence anywhere to be seen  here, boys and girls.
After getting thru the entrance gate, it's still 12 miles to the Rim.   One of our neighbors at our Kanab park had told us about a few great spots we didn't want to miss (many thanks, Tom)  so we drove there first:   Angels Window,  Point Royal,  Point Roosevelt and Imperial Point.   We first drove to Imperial Point.  It's at 8,800 feet, and you notice the thinner air as you walk up the steps.   It was an amazing view,  and turns out it was just a start to many amazing views that afternoon.    We kicked back with some lunch at one of the picnic tables in the shade.   BTW,  it was 20 degrees cooler at the Rim than in Kanab.
Next was Roosevelt Point,  another breathtaking view.  It's amazing there are no crowds like the South Rim, probably due to its remoteness.   I think the scenery from the North Rim is much prettier than the South Rim.  But then again,  just my opinion.   It was a short stop and take a few pictures and head toward the main event.
Another short drive on the windy road and we were in a parking lot for Angels Window and Point Royal.    Two spectacular places,  just a short hike from the parking lot that was 3/4 empty.
Angels Window is very cool.  It's a big rock that juts out into the canyon and has a large hole under it.   You walk over it via a narrow, maybe 36″ wide rock-way.    After Angels, I walked out to Point Royal, just another few hundred feet further on the trail.
Most amazing short hikes I have been on.   I will let the pictures show you what it looked like.