We are staying just outside a small town called Hatch, UT,   the Riverside RV Ranch.   There is actually a river,  but we were told by the guy on the phone those riverfront sites didn't have hookups.   Turns out only some of them just have water and no electricity and sewer,   but a few empty spots did have all but sewer.   Oh, well, live and learn.
We got in early in the afternoon so we set up and headed up to Panguitch to see the quilt walk.  I  had been told it was the second largest event in Garfield County, so how could we not go!  We spied lots of quilts but not many people were around to admire them.   Some pretty cool architecture in that little town.
After a quick "drive by" we headed for Bryce,  stopped by Red Canyon visitor center,  then off to Bryce Canyon National Park.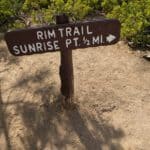 We had done some research and headed for Sunrise Point to walk with the pups over to Sunset Point.   Beautiful walk on the canyon rim.   The views are again spectacular.   It was a warm afternoon so we headed back to the RV for happy hour.   Turns out Hatch is in a dry county..  oh, well.  Good thing I found the only place that had just recently gotten a beer license!