Where has the time gone  Last minute updates to the coach are happening right now at a feverish pace.   Swapping a white outlet under the dining room table for the brown one that was impossible to find when you needed to plug in your phone or tablet, extending that circuit over to the side of that cabinet for plugging in the TV I installed behind the couch.  And hopefully I will have time to install the Linear actuator that will raise and lower that same TV with the push of a remote.
Ordered a new See Level Bluetooth tank monitoring system to replace the OEM system that always had me wondering how full they were.  While it's slowly making its way here, I've been pulling wire from all the tanks and finding a place to draw power etc.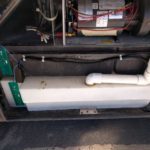 I sold the Jeep last Monday after Kathy said enough of the jarring ride.  Had the Equinox modified on Thursday to be able to tow it behind the coach.
We had a Base-plate installed along with a wiring kit to have the Equinox's tail lights show followers what we intend to do.   And as a bonus I had a switch installed so we don't need to unplug a fuse each time we tow and replace it when we get there and need to drive the car somewhere.