We had planned events at home in May (the wonderful wedding of our son and our new daughter-in-law!), and those, plus finishing up the bus, we got a late start on this year's summer trip.  It was quite a bit warmer than last year's April shove-off.  Most of the way north is really a desert of various elevations.  Some places were a lot warmer than others.  Barstow for the night was pretty warm, but the next day we got to Vegas for the weekend and it was hot.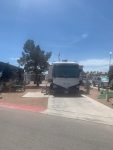 Lucky for us we were leaving because it was supposed to get even hotter the day we left for the rest of that week there.   We ordered Amazon Fresh groceries delivery while at the Oasis Resort, and they delivered them right to the coach's front door.
We left early to beat the heat and get fuel in a truck stop just north of St. George, Utah.  This truck stop was the worst I ever experienced anywhere.  It was an unattended Sinclair truck fueling station, with a single pump for cars & gas.   The craziest thing with these pumps is they stopped at 17 gallons.  Not some even dollar amount.  Each time the dollars were $95.38 and exactly 17 gallons.  The pump took about 60 seconds to pump in 15 gallons, then it slowed to less than a crawl and took 5 minutes to hit 17 gallons.  Needless to say, I had to restart the pump 6 times to get a full tank.   It was excruciating at best to get a full tank.
We ended up in Beaver, UT, for the night, cool weather, such a nice break from the heat.  I wanted to stop in Beaver as I thought we had an exhaust leak and I had used a diesel mechanic shop there on our way to Alaska a few years back.  I was impressed by them at the time.   The next morning I drove the coach over and the owner crawled under the engine and after a bit popped out and told me it wasn't an exhaust leak, but a manifold leak.   He said they were very understaffed and barely could keep up with their mobile service, so they couldn't do the work.   (I wished it was an exhaust leak!)
So that morning we headed off to Juab County Fairgrounds for the rally in Nephi.   It was a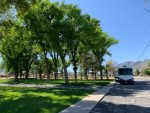 Good Sam rally.   Prior to finding it online last winter, I didn't even know there was such a thing.   We arrived, set up, and then I got on the phone with places to have the exhaust manifold looked at.
I called a few local shops and they all said they could do it; but I decided it might be smarter to have a mainline shop in Salt Lake City do the work, so I called the Freightliner shop and they said to bring it in ASAP as they had time the next day.  We left without ever attending anything at the rally, although we did get to experience someone testing the loudspeaker mic @ 6am,  insistently tapping for about 10 minutes.  He must have been deaf, as it was extremely loud and seemed to go on forever.  Lucky for us,  we were already awake; others weren't as fortunate.
June 2nd, thru June 9th