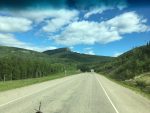 We got up early Wednesday morning so we might have a chance at getting a lakefront spot in Muncho Lake's MacDonald Campground.  It's a first-come, first-served provincial park on the lake and it will be another night
of boondocking. We ate a quick breakfast and packed up the coach for travel. Then we headed over to the fueling station I had scoped out the day prior to top off the tank for the way back yonder stretch of the trip.
That done and the car attached, we set out for Muncho Lake. The first hour was just beautiful scenery and a few cars and other RV's, but after that we started climbing back into the mountains. The Northern Rockies is what the map called them.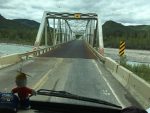 The road got very narrow and bumpy. A lot of dodging small potholes was on the menu for the day. Then we came up on "loose gravel" signs, and right after, the loose gravel. We slowed down to below 30 mph in an attempt to kick up fewer of those rocks, but a truck came barreling down the other way and sprayed us with them. Three direct hits on the windshield. Luckily no cracks so far, but that experience suggested that pulling way over to the right when they were coming was not going to help, as I had done that.
A little further up the "gravel" road I saw 6 fast-moving trucks coming down the grade about a 1/2 mile away. Then I spotted a few-hundred meter stretch of the road without gravel and stopped the RV on that to let them barrel on past. That worked! Not a rock hit the RV. Luckily for me there was no one behind me so stopping in the middle of the highway was ok this time.
Once they went by, we proceeded and in less than a mile we saw the line of trucks, cars and RV's just getting started behind a pilot car to lead us thru the ongoing construction. That was a dusty few miles! But the crazy part was what it appeared they were paving the highway with. It literally looked like brown dirt with gravel mixed in. And they were laying it directly on the old asphalt, no liquid asphalt was sprayed on first to "glue" it to the roadway.
It took a good hour to get thru this construction zone and then back up to the 80 Kph speeds again. Lots more windy, bumpy mountain road to go! As we approached Muncho Lake, we came across a dozen or so Stone Sheep on the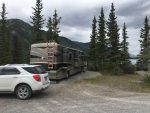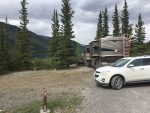 sides and in the middle of the roadway. After a bit, they let us pass and we arrived at the MacDonald Campground and turned down its dirt roadway. Since we had got on the road early that morning, we found there were many open campsites. We chose one and I pulled straight in so we could look out the windshield at the lake. It's too bad there is absolutely no connectivity here so the windshield camera is not online for this as it's gorgeous!  It is a beautiful and level lakefront spot with a big picnic table. This is a little bit O heaven.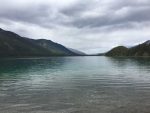 Really quiet and peaceful place. And only 14 other campsites here and a boat launch. We saw a couple kayakers and a few small fishing boats on the pretty, light blue lake with all the tall mountains ringing it.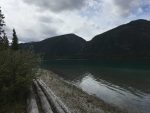 I wanted to clean off the bugs and maybe wash off some of the dust, so I went in search of a water spigot to see if I could get away with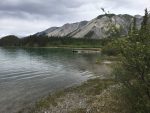 not using the water we brought with us and I found an old hand crank well pump. It worked, and it was a workout to get a pail of water out of it. I pumped 3 more bucketfuls that evening and vowed to bring my WD40 with me if I needed to go back again. I didn't have any grease, which is what it needed, but I figure the WD would work for a few days…
I am writing this the morning we are leaving for Watson Lake in a text editor as we have no cell or internet service here and will paste it into a post when we get somewhere with service.   Waking up this morning with the beautiful lake out the windshield was an awe-inspiring moment.
During our walks last night, I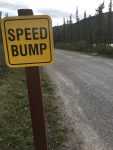 saw what must have been the original design of a speed bump. I had never really thought where the idea came from, but this one was a round log set into the roadway. I'm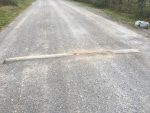 guessing someone thought of this when cars were first introduced to slow them down a bit. I guess it would have had the same effect on wagons too. I remember reading about the Civil War and corderoying the roadway with logs to pull the cannons thru muddy roads. That must have been some ride if you were in a wagon.
Anyway, we are pushing on to Watson Lake this morning and plan on walking thru the Signpost Forest. I am assuming there is a lake there but have not seen anything written about that. I am guessing we will be staying in what will look like a gravel parking lot there. The opposite of today's campsite.