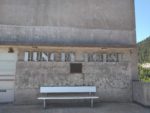 On Sunday we were going to drive into Kalispell to check it out.   We had noticed a sign on the way into West Glacier for Hungry Horse Dam.   I assumed it was going to be a small, probably earthen structure, but figured it may be a nice place to visit; so on the way down the mountain, we hung a left onto the road that leads there.
After driving a few miles, we came to a large lake with two picnic areas and assumed it was part of the water behind the dam.   It wasn't, and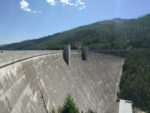 we kept driving a few more miles when we came around a corner to see a huge concrete dam looking a lot like Hoover Dam.   It was a really big arch style dam like Hoover, but a couple hundred feet shorter in height, but much longer in length.   And the most interesting part,  you could still drive or walk across the top.   I haven't seen that since 9/11 !    There were no tours of this dam, bummer.  But it is a hydroelectric generating station.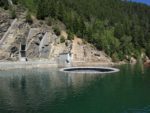 I started walking over the top of the dam and noticed it had a huge glory hole type spillway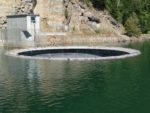 only 20 or so feet from the road at the northwest corner of the dam.   It looked really large, and there wasn't any other spillway to divert water when too much was getting into the lake and the turbines can't let enough out to lower the level.   Turns out its 64′ in diameter.     That's probably big enough to keep the water from going over the top of the dam.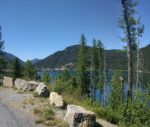 We also drove over the dam and down a road that got narrower as we moved further from the dam.   It's a really big lake, but we only saw one lone boat on the water we were able to view.
We turned around at a small turnout and headed back over the dam and on to Kalispell.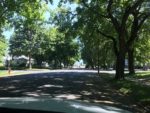 We drove around Kalispell for a bit.  There were some beautiful tree-lined streets south of the highway.  They had a full canopy covering the whole street and sidewalks for many blocks.   We also noticed many other streets looked similar.   But there wasn't much else to see in the town and we headed back to west glacier.