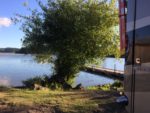 The campground was called Streeters Resort and it was right on Silver Lake.   First thing I noticed as we drove up to find the office was the crowds around it.   I can't remember another campground with crowds around the office,  not one.   I started thinking this place might be a bit different.   The reviews I read didn't indicate anything odd.   Maybe I need to go back and reread them.
I parked right in front as there were no signs indicating anything at all except Zip Line office arrow, which explained some of the people.  It just seemed to be a hang out spot.   I went inside and talked to Jose.   He asked if I knew my site number.  I did not.   Now I was remembering a review that mentioned they got there after calling where the office said to come over, they had plenty of space, and when they got there, there wasn't any space for them…    I was starting to get apprehensive now.
I told him I had called earlier in the week and had a reservation.  He asked my name and flipped thru a few loose sheets of paper that had once belonged in a binder but had been ripped out and partially crumpled up.   Concern started to grow.    After quite a bit of time shuffling those sheets, he seemed to find my name and said I was in 19.  I said great,  very relieved!   I paid him and he just pointed in a general direction for a site.   I said I would walk over first, and he said he would bring me there.
We got there and the trailer to the left of our space had strewn paraphernalia, tables, large innertubes for pulling behind a boat, all over, including one of those canopy things screwed into the logs on the side of my parking space.   The gal sitting on the trailer steps told us there was no room and said we would like the campsite two over to the left as there was no one camping there.    We walked back to the office and he was muttering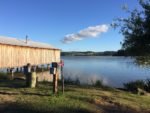 under his breath about "idjits" or something similar.   He also mentioned that we probably wouldn't like that spot two over as the shack right behind it was going to get loud that evening.
In the office he consulted with the three women inside, and after about 10 minutes, they figured out someone had already paid for the other site.   So I was going to back into  #19    I would have rather pulled straight in as it was 5′ from the edge of Silver Lake,  a very large lake about 30 miles from Mount St. Helens,  but that would have put our door smack dab into their piled-up stuff.    We backed in…
I maneuvered the coach far to the left as possible so there might be space for my slide to extend on their side of the site.   The guy next door unscrewed his canopy back a bit  and moved some other stuff back so there was room for our rig in our spot while I was backing in.
As I got out and started hooking up our electric and water, the guy came around the back of his very large 5th wheel trailer and asked his wife if she knew how to dump the tanks.  She said, "Of course not."   His reply was he had been talking to me, not her.    I finished up and explained he should open the larger valve first,  the 3″ one,  then after that is done open the 1 1/2″ pipe valve.   He looked at me kind of funny like those sizes made no sense.   I walked over and pointed out what was what.  Then he mentioned he had another set of them.   Turns out he had two sets of tanks, one in the front and the other in the rear.  Who knew?!   I looked at all the piping and suggested he dump the rear one first and then the front.   Then I went back to finishing our setup.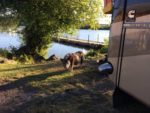 Once I was done with everything, I went back outside to check the basement doors were closed and locked, and the guy asked me if he should move his pig.   Just then I noticed a pig was right behind my coach tied to a small tree.   I said he was OK there as long as he didn't start gnawing on my tires.   He also mentioned there was a rabbit around there too.   I haven't seen it yet, but Kathy says she has.
A little while later I saw the pig coming down the 5 steps from inside the RV.   Now that is something you don't see every day.  It's not a really large pig, but has the requisite little stubby legs that made it look pretty awkward coming down the stairs.
On the other side of us were a couple of good ole boys with friends drinking all afternoon and evening.   I even overheard one of them on the phone.  Appears he called the wife or gal friend at work to have her bring more beer on the way from work.
I went in to take a nap a few hours after getting here, and I've now decided to call the family to the right of us the "loud family."  Beside the pig and rabbit, there is two large dogs and many children with the wife and husband yelling at the brood to "not to do something" every few minutes.   Remember, there is a lake just a few steps away, a large floating dock with many jet skis and small water ski boats tied up, many flotation devices, kayaks, and lots of kids on and in the water surrounding the dock.   There are even a couple racing type ski boats with huge four or five hundred horsepower motors that make it sound like we might be at the Englishtown Dragstrip.  For any Californians reading this,  think Pomona and Don "The Snake" Prudhomme, only on a mirror flat lake…   BTW,  the lake is about 5 square miles of water.
About 5 pm the karaoke shack got loud.   It almost sounded like there was a band in there, so I walked over to peek inside.   No band, just a karaoke machine and a bunch of folks sitting on couches strewn about the place, drinking beer and reading the screen with the song lyrics scrolling by.    Earlier in the day I had walked into the shack over the water.   The floor felt spongy and had miscellaneous pieces of thin plywood nailed down in various places.   In the back of that "karaoke" space was another room strewn with old boat junk.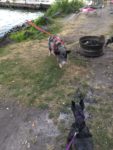 Dusty got to meet his first pig from a short distance that first evening.   The pig was quite nice and only squealed when the kids got too close and bothered him 🙂
We were packed in like sardines that first night and when everyone lit their fires, the air quality went into the hazardous range of the index.   The shack was pretty loud till about 10:30, but then the people around their fires were loud and rowdy until about 11:30.   I was hoping they didn't go till 2…   I'm not really a country music fan, although Kathy is.
Seems like we went from the most rigid rules for a campsite to the most lax!!
Saturday morning we took off for the volcano and when we returned, the good ole boys to our left were gone.    It was a beautiful evening and we sat outside enjoying the view now that we weren't packed in on that side.    Dusty got nose to nose with the pig as you can see in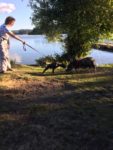 the pics.   Turns out tonight there was a guy with a guitar singing in the shack till around 8:30.   He wasn't bad.   While we were outside listening, more folks moved into the site in front of the shack and we got to watch a few of them try to set up a one-person tent for at least an hour and a half.   They did finally get it set up, and to my surprise, it's still standing this morning when I got up!  Although they left their stuff all out and even their car trunk hood up.  I hope the birds didn't bomb it!!
We are heading out today (Sunday) to go to an Escapee's campground outside of Port Townsend, Washington.
PS.  I never saw the rabbit.