Canyonlands was the last park in Utah I wanted to see.  I still think, if there is only one you have time for, then Zion should be it.
This park is like a smaller version of the Grand Canyon, lots of jeep trails thru it.  One of them is 100 miles long.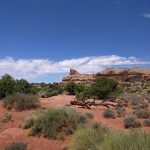 The most interesting part to me was seeing what appeared to be Yosemite 's half dome lookalike, the other half of half dome,  except it's a yellowish rock instead of the grey of Yosemite Valley.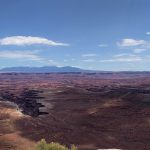 The valley is very cool with all the winding canyons carved by the rivers. I think this is the last of the red rock parks we will hit this summer.
Tomorrow we start heading northward toward Yellowstone.