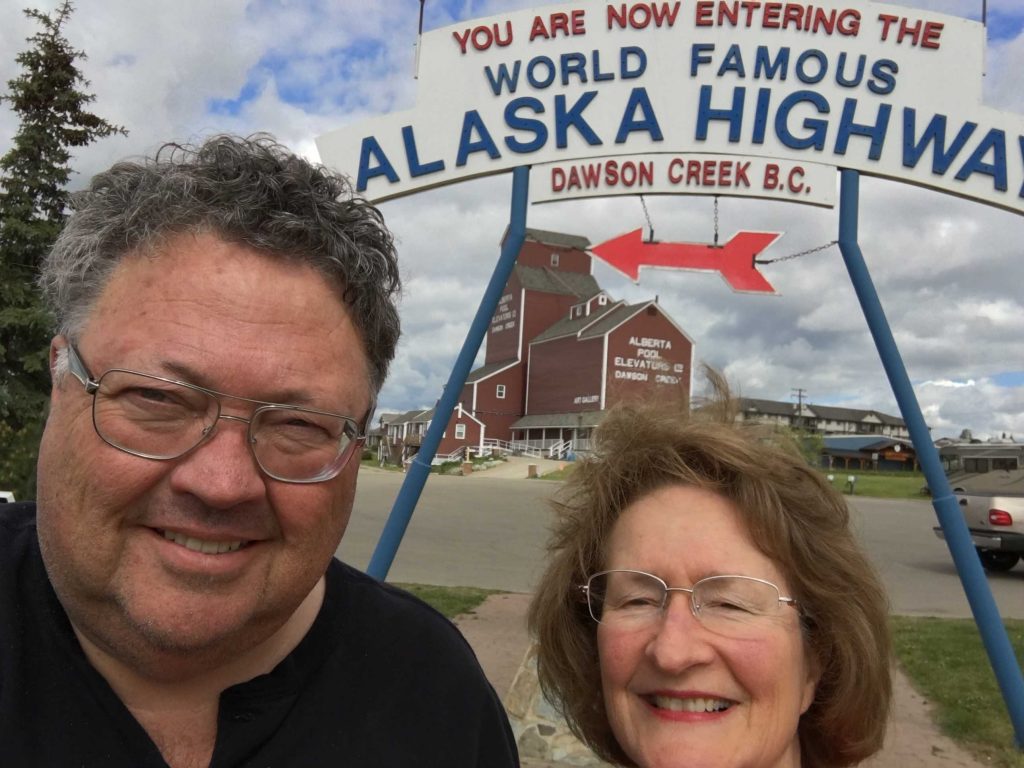 We got out of the campground before 9 am to fill the fuel tank with  $109.9 per liter diesel, which translates to about $3.15 US.  I believe the cheapest fuel we found in the States on the way was $3.12, so Costco Canada has its act together.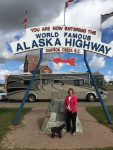 We stopped and took a few pics in Dawson Creek, as we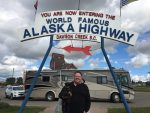 didn't have anything listed to see there, so we got on the ALCAN and headed toward Alaska!   We thought we would stay at Charlie Lake Provincial Park just north of Fort St. John,  if there was availability when we arrived.  There was,  so that evening we enjoyed a very wooded British Columbia Provincial park.   There were no hookups in the campground.  We did see a few strategically placed water spigots on the park road so you would be able to fill your tanks if needed, and there was a dump-station there too.
It was a no-hookup site and heavily forested so the solar wasn't going to do much for us.   It was going to be a live off the batteries and charge them as we drove the next morning to Fort Nelson, about a 220-mile drive.
I had a little time after the rain stopped to get my rock guard front bar mounted on the receiver on the back of the coach that evening.
We shoved off the next morning with the hopes of staying in Fort Nelson that night.   The road was real smooth, similar to all the other roads we had been on in Canada till we hit Kilometer Marker (KM) 170.   After that the road jostled us the rest of the way to Fort Nelson.   Also, not long after KM 170, we saw a bear run across the road way in front of us.  The next couple hundred miles had us see 4 more bears alongside the road.  Other than that there wasn't anything else to see except the scenery.   We made it into Fort Nelson a little after 1 pm.  Turns out we were back in Pacific Time when we entered BC, so it was earlier than expected.
I had called Triple G Hideaway Campground from Charlie Lake that morning and they said they would fit us in, no problem.   When we arrived, the place was almost empty.  By 9 pm it was almost full.  Nice little park right on the Alcan.  Luckily we were placed 3 rows from the rear and couldn't hear any road noise that night.   When we walked over to the town's small museum, the front rows of sites had plenty of road noise.  But I bet traffic isn't probably much of an issue once it gets dark.   Sunrise it 4:01 am and sunset is 10:20, over 18 hours of sunlight.  Less than 6 hours of night time here.
We stayed at the 3 G for a couple of nights.  Finding these campgrounds with good WiFi in what is essentially the wilderness is pretty nice.  Living on 256 Kbps is more like dial-up than you think.  Even though the fastest dial-up I remember was 56 Kbps, the websites you looked at had a minuscule amount of graphics back then and practically no one had a digital camera .  If they did, the photos were 100 kilobytes,  not 4 megabytes each.   And no one pulled down 1 Gigabyte video files so their significant other could watch her soap opera.
I checked out the 4 local fuel stations to determine the easiest egress to top off before we really get into the back yonder and fuel gets close to double the cost till you get to Whitehorse in the Yukon.   We might be able to make it to Whitehorse with the fuel we have but that would be cutting it really close on range.  And I heard from a local that used to truck fuel to Whitehorse, there are 7 large grades between here and Whitehorse and about 600 miles of road to get there.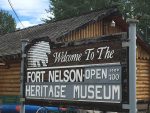 Yesterday afternoon we walked over to the Fort Nelson Heritage Museum.   Quite a bit of stuff to look at, from old cars and machinery to huge generators that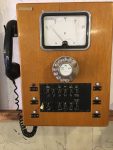 used to power the town.   It was quite a collection, even old communication equipment.  I really like what appeared to be a telephone test rig that looked like a piece of furniture.   I think it was $7 C.  It was a blast from the past!   Glad we walked over there.  If you are ever in Fort Nelson looking for something to do,  you could spend hours looking at things.