Driving from Grande Cache to Grande Prairie was an easy drive.  We passed lots of oil drilling or fracking sites, I mean a lot of them.   And all the traffic on the road seemed to be trucks servicing all the sites.   It again rained most of the day; and when we pulled into the Grande Prairie Rotary Campground, it was still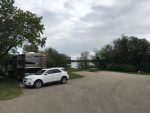 raining.  We got checked in and drove to our site, which was a pull-in and fronted on the Bear River.   We had lots of trees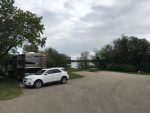 covering most of the view, as you could see out the windshield's webcam; but it was fairly level and the utilities were on the correct side for pulling in forward into the site.
We got all set up and I headed out for a growler fill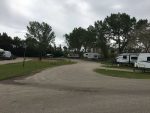 at Grain Bin Brewery and then over to Costco to check out the access for diesel when we leave.  $109.9 per liter is the lowest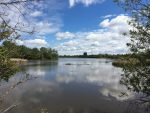 I see anywhere in Canada today.   Works out to roughly $3.20 US per gallon.   Anyway, I filled up the toad while reconnoitering.
I noticed an Elks Lodge on the map and I was wondering about that as I thought they were only in the US.   More on that later.
A few days back we had our propane leak detector go on the fritz, so I had to disconnect it.  While here in GP, I scoped out an RV parts place called McGregors.  They actually had the exact one I needed and of course it was exactly double the cost for the same model online.  As we are traveling, buying it online would be problematic due to not having exact set plans for where we planned to be.   I picked up the expensive detector and hooked it up this morning.   The light is green, supposed to mean it's not detecting any leaking propane.   Propane smell is pretty distinctive, so I am not sure why I really need one.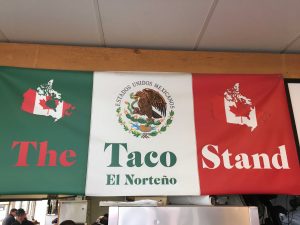 While we are on the road, we are always looking for good Mexican food, and to find one of the better taco shops we've tasted here in GP was nothing short of amazing.   El Norteno was the bomb!  And so was its sister taco stand, El Sureno's.   They made their own corn tortillas right in front of you and added great ingredients.     Both places were located in food courts, one in a sports complex / leisure center and the other inside the Farmers Market.   Very different locations, but well worth the visit if you love great tacos!   We think we are experts due to living 20 miles north of Tijuana.
I made a Costco supply run on Friday and a Safeway supply run on Saturday afternoon.  We are now stocked up for hitting the actual Alaska-Canada Highway tomorrow.   We assume big grocery stores may be few and far between for the next few weeks.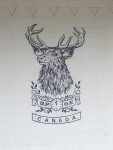 After stowing all the supplies, I decided to head over to the Elks Lodge to see what was happening there.   We have stayed at a few lodges on our trek, so I was curious about there being one in Canada.   Turns out it's not part of the American organization and there isn't a social club inside.   So afterward I went on the hunt for a place to go to dinner.
We found The Keg Steakhouse, which was outstanding.  I didn't know it was a chain when we arrived, but the hostess told us a little about the place.   We ordered their specialty, the prime rib, which was pretty good.   To our surprise, prior to the entree, the manager stopped by and delivered a complimentary shrimp cocktail.   It had the largest shrimp I'd seen since visiting Sydney back in the 1980's.  She told us that since we were first-timers, we received the shrimp compliments of the Keg.   The meal was excellent.  We will be back… Too bad there isn't one in California.
We are all filled up with water, will dump the tanks in the morning and head on over to Costco to fill up with diesel fuel.   We last filled in Shelby, Montana, prior to hitting the Canadian Border.