We arranged for a dog walker for Dusty as this would be a long day for him in the RV while we head out to the glacier. It was listed as about 11 hours on the boat. We boarded the boat a few minutes prior to them shoving off about 9am. The boat was about 70′ long with just one deck and was a catamaran style configuration.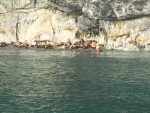 There was fog on the way out and we kept going into and out of it most of the way in and out, luckily for us is was mostly clear out there.
We didn't see much in the way of wildlife except Otters
and Seals on the way.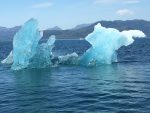 We did come across an iceberg that looked like an ice sculpture and drove all around it. Pretty spectacular sight. I kept wondering how large it was underwater as the captain kept getting closer and closer to it.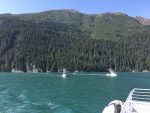 We saw lots of fishing boats waiting their turn to throw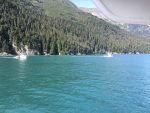 there nets in the water.   We watched one on the way back that had a sea lion jump over the net into the catch area to probably find much easier fish hunting in there.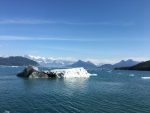 We went on our way to the glacier, as we got closer it kept getting colder and colder.   The glacier was majestic, much larger than the portage glacier we had seen over near Whittier.   And while we were there i happened to get a calving on video.  That was amazing to see and hear up close.