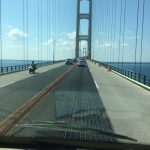 We headed out of Paradise Point Tuesday late in the morning and headed toward the Mackinac Bridge.  It's a really long bridge with a lot of construction going on that day.   I just looked it up and it's twice as long as the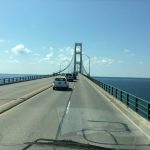 Verrazano.   Weird thing is the speed limit for loaded trucks is 15 MPH.   Could you imagine trucks crossing the Golden Gate, Verrazano or GW bridges at 15 MPH and it not being rush hour?!
We scheduled 5 days for Gaylord in a KOA just south of town.   Pretty nice place as KOA's go.   The real reason for staying here was to get the fridge sensor fixed.   We had an appointment on Wednesday @ 9 am for the diagnostic.   Of course it was pouring rain Wednesday morning and I made my way to the RV dealer just north of town.    They took down all the necessary info from the coach and called Norcold to ask that they ship a new sensor.   Norcold asked them to try using a magnet on the sensor,  which I already had done.  But they explained that if the sensor had gotten wet, then I would have needed to wait a couple days to try it.   I didn't know that at the time.  But when the tech tried it, (it had been almost 2 weeks)  it reset.    He was done and I could leave.   OMG.
Thursday we decided to scrub the coach and use the new central Vac I had installed for a thorough vacuuming.  Wow does that new unit have a lot of suction!!   Kathy might have been right that she thought it might suck the tiles off the floor.   The best thing about a central vac is the air (and dust) does not blow back into the house like a regular vacuum does.   We cleaned everything well.
Wednesday evening right around 6 pm the Emergency broadcast System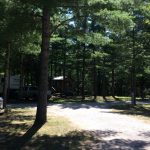 Alert went off about a Tornado a bit southwest of us.   Great…  More weather,  I immediately got out the laptop to look at the Doppler for our area.  Wow,  lots of red areas around us.  I went outside and put the chairs, tables and grill back in the belly of the coach and mentioned what I heard to a few of our neighbors.   Thankfully the tornado touched down about 30 miles from us and was an EF0 and did almost no damage.   But the rains came like a banshee and went on for hours, only slacking off a bit around midnight.   Our campground looked like a lake that night .  But Thursday morning it had all drained away.  Must be all sand around here.
Friday was a down day,  we did some grocery shopping and basically was lazy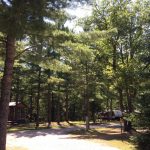 all day.   Hey,  I really am retired.    Saturday I affixed the I-Pass/EZ-Pass Toll Transponder to the windshield.   I attempted to charge it up for all the tolls I will be hitting in Ohio and NY in the next few days as we head toward Niagra Falls.   Turns out I had to add a new credit card number to the account as the one I used to initially order the device and put the minimum amount in the account would not work for reloading the account.  I guess they must use different merchant accounts for initialization and refills.   I use VAN's for most autopay stuff,  (Virtual Account Numbers) thru my Citi cards.    Sometimes they can be a bit tricky in situations where the might use different merchant numbers each time.  I know Amazon does,  so I cannot use a VAN there,  I tried.
I also spent some time trying to get tickets for some of the TV Shows in NYC.  The Late Show,  SNL and especially for Kathy The Chew and Dr Oz.   It will be interesting to see if any come thru while we are still in the area.